Study Online everywhere you are with our Self-Paced Online Learning Courses. Now available is the first Distance Learning Course on Buddhism & Quantum Physics.
In the fast-paced digital age, the world is witnessing a paradigm shift in education, especially in the realm of spiritual and philosophical learning. Traditional boundaries between disciplines are dissolving, giving rise to innovative approaches that bridge the gap between ancient wisdom and modern scientific understanding. One such groundbreaking development is the emergence of online courses that explore the intricate relationship between Buddhist philosophy, Science, and Mindfulness. Jamyng London Buddhist Centre and Science & Wisdom LIVE proudly present the first-of-its-kind distance learning course on Buddhism & Quantum Physics.
Distance learning and Online courses: Join one of the most diverse Buddhist Centre in the UK
Everything you need to know about studying Buddhism and Science Online through Distance Learning Courses of Jamyang London Buddhist Centre and Science & Wisdom LIVE.
You can now study with Jamyang London and Science & Wisdom LIVE no matter where in the world you are and be part of an internet-based group to study.
Our commitment to fostering a welcoming, inclusive, and diverse community through its Equality, Diversity, and Inclusion efforts is reflected in the diversity of our hundreds of students worldwide.
Aiming to be more welcoming and inclusive as possible, we have now developed a flexible educational approach to offer you a range of study options, including learning distance opportunities.
What Does Distance Learning Mean?
Distance learning means you study at a location that suits you at a time that fits with your schedule and other commitments. All you need is a computer or tablet with internet, and you're good to go.
Each online course is designed to accommodate beginners and more experienced students in any field, taking you on a step-by-step learning journey through the different modules of each course.
As a distance learning student, you get a similar level of support as a Centre-based student, with interactive online course materials.
Distance Learning courses differ from online classes because they are pre-recorded, which means you can decide on your own schedule.
What can we study as distance Learners?
All our distance learning courses will be focused on the intersection of Buddhist Philosophy, Mind Science, and Mindfulness. The first distance learning course available is titled Buddhism & Quantum Physics.
Featuring a distinguished lineup of world-renowned speakers, this distance learning course merges the profound insights of Buddhist philosophy with the frontiers of quantum physics, creating a rich tapestry of knowledge that encourages holistic exploration. By fostering a dialogue between Buddhist scholars and quantum physicists, this first distance learning course illuminates the intersections and synergies between these seemingly distinct disciplines. Students are invited to engage in interdisciplinary discussions, transcending the boundaries of their respective fields and fostering a deeper appreciation for the interconnectedness of human knowledge.
The distance learning course on Buddhist Philosophy & Quantum Physics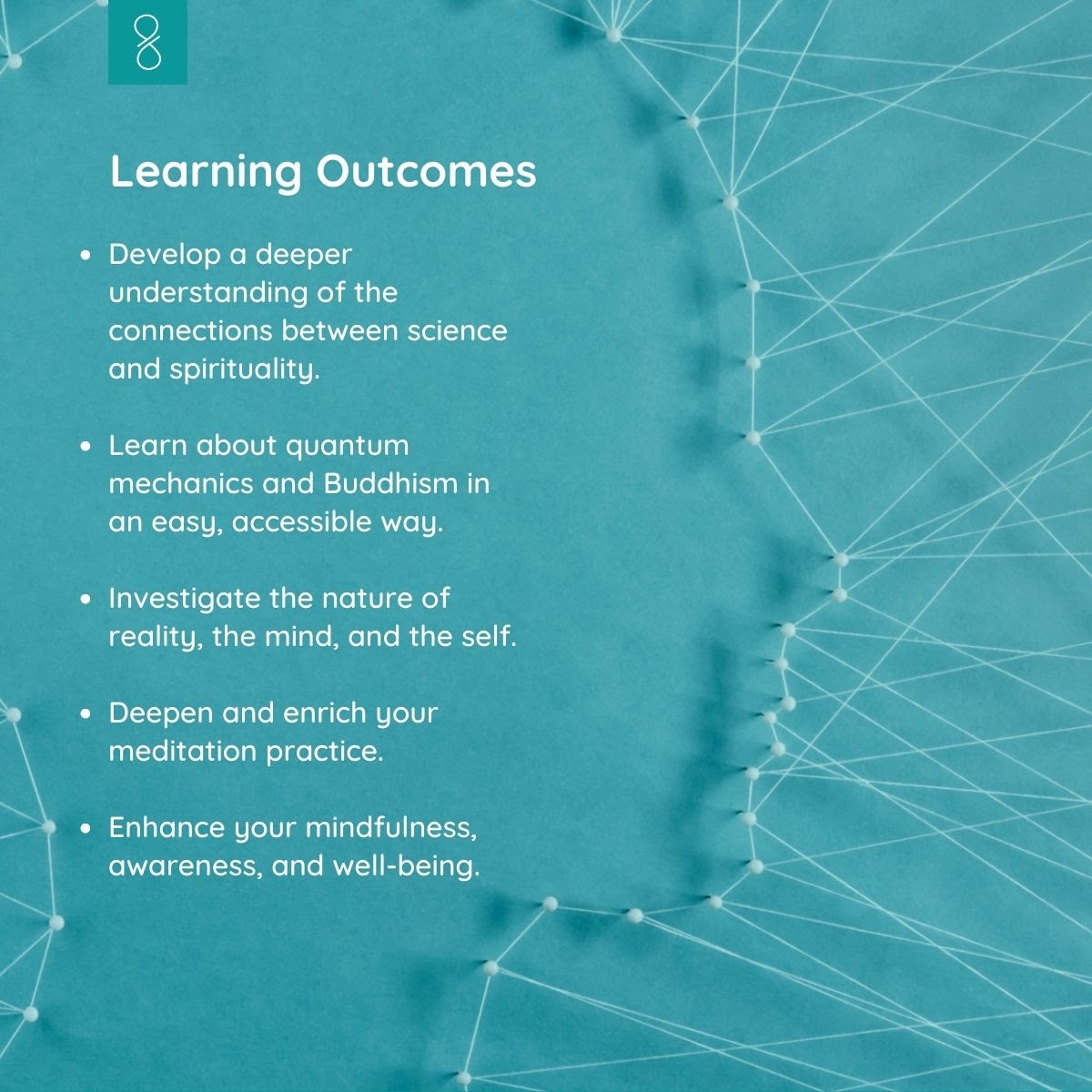 Interested in online learning? Why not take a look at our Buddhism & Quantum Physics course
Buddhism & Quantum Physics is an in-depth distance learning course that offers a unique blend of scientific understanding and spiritual wisdom. With six comprehensive online modules and over five hours of streamed video teachings, it promises to provide fresh insights into the nature of reality and self.
This distance learning course isn't just about gaining new knowledge, it's also about exploring a fundamental shift in perspective that can enhance your everyday life.
Study Materials of Buddhism & Quantum Physics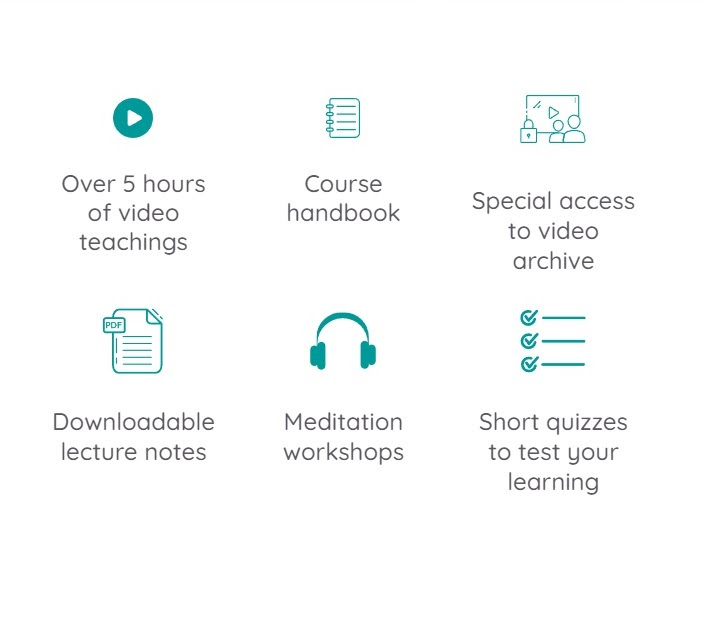 This distance learning course is designed to be accessible to everyone; the syllabus is very engaging, understandable (without jargon or overly technical terms) and applicable to daily life. Furthermore, participants can complete this course at their own pace, with one year of full, unlimited online access. This way you can truly enjoy the distant learning experience, without the pressure of deadlines.
With added study resources such as meditation workshops, downloadable lecture notes, quizzes to test your learning and special access to our video archive, you'll have all the tools you need to deepen your understanding and cultivate a more robust meditation practice at your own pace.
Study Materials:
Six modules
Thirteen lessons
About 30 mins of video content per lesson
Lecture notes for every lesson
One quiz per module
Bonus Video Content
One meditation workshop
One final quiz
Feedback from our Distance Learners Community
"Excellent distance learning course on the background and the intersection of certain philosophical schools of Buddhism & interpretations behind Quantum Physics. Definitely worth exploring." – Marc
"This distance learning course is a useful introduction to the basic elements of quantum physics and its relationship with Buddhism – but perhaps more importantly, a useful beginning on a journey to know the self and one's place in the world." – Barbara
Distance Learning Course Fees
Interested in online learning? Why not take a look at our Buddhism & Quantum Physics course
Register in August, and you'll receive a 30% discount on the course.
Meaning you can get the course for just £99.
Don't miss your chance to be the first to gain first access to the Early Bird offer.